Resources
Erie Canalway Heritage Corridor
About the Erie Canalway National Heritage Corridor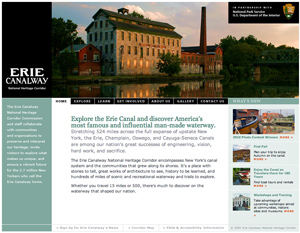 Explore the Erie Canal and discover America's most famous and influential man-made waterway. Stretching 524 miles across the full expanse of upstate New York, the Erie, Champlain, Oswego, and Cayuga-Seneca Canals are among our nation's great successes of engineering, vision, hard work, and sacrifice.
The Erie Canalway National Heritage Corridor encompasses New York's canal system and the communities that grew along its shores. It's a place with stories to tell, great works of architecture to see, history to be learned, and hundreds of miles of scenic and recreational waterway and trails to explore.
Whether you travel 15 miles or 500, there's much to discover on the waterway that shaped our nation.